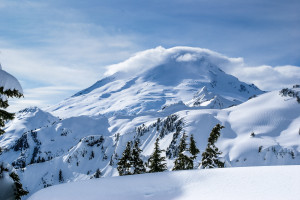 Started as a gathering of the tribe in 2010, The Mount Baker Splitboard Festival has become one of the largest snowboarding events in the Pacific Northwest. Many people think of this as the highlight of their snow season and come back every year to touch base with their backcountry brothers and sisters.
Our goals have always been to meet other people to tour with, try out new gear and raise money to support the Northwest Avalanche Center. Over the last six years we have raised over $28,000 for the NWAC.
There's a lot of love in our little community! Our sponsors are back this year with a record amount of donations and an armada of demo gear. The Saturday night raffle is always the hightlight of the weekend and tickets will be on sale starting on Friday night this year. This gives you time to dig that change out of your couches!
Lifelong friendships are created every year at the Mt Baker Splitfest and this year will be no different. With less than ideal conditions in the Western states, Splitters are ready for the deep snow and ideal touring conditions that the Mt Baker area always has to offer.
So, look thru these pages and start making your plans to visit the Splitfest in Glacier, Washington this year from March 17th thru the 19th. There's a schedule of events to plan your time at the festival. It will be a weekend you will remember for a lifetime!